Manual MK22 V1.09E

Manual MK2 PDF

Manual MK1 PDF (in German)

FLK Driver (for Win XP)

FLK Folder


LACHNIT MK22

USB Firmware Loader for PC and Mac. more...


Improved compatibility with external software.

Improved linearization of continuous controller inputs (Pedal)


Patented FLK Light Sensor Technology


Dynamics knob and velocity curve edit knobs.

Over 32000 different levels of note on velocity are linearized to internal 256 MIDI values, followed by the user adjustable dynamics knob and velocity curve knobs.
For Hi Res linearized to minimum 4096 CC#88 values.

Unlike normal MIDI keyboard controllers implement velocity curves by shifting MIDI values and/or compressing the curve and consequently minimize the MIDI dynamic range. the full MIDI range of 0 - 127 is always available over the full range of the velocity curve knob.




Trigger point fine tuned to about 2/3 of key travel.
Each key is adjusted manually on each keyboard.


Pitch and modulation wheels



"Piano Mode" on/off possible to enable very slow key movements that don't produce a sound like on a grand piano.


"Waterfall Mode" on/off possible. Adjustable MIDI velocity.


Dynamic key release velocity.


3 digit 7 segment display

4 banks of 4 presets to store your custom parameter settings permanently (selectable by MIDI Program Change commands).


Up to 4 continuous pedals.
Continuous On/off possible for pedal switches.
MK2 recognizes polarity of standard MIDI CC pedals automatically. 2-10K Ohms for MIDI CC controllers like expression pedals.

Inversion of pedal polarity without restart possible.

Damper pedal input works with continuous half damper pedals.
Stereo 1/4" jack for dual pedal and stereo 1/4" jack for CC-pedal.

Calibration of custom pedals on all 4 pedal inputs possible.


MIDI trio, USB connectors.


USB Plug´n Play. No driver neccessary.
(WIN XP shows the instrument as an audio device on the computer, installing the WIN XP driver shows it as a FLK MIDI device.)


Metal case, wooden sidepanels.


Dim. in cm:
Height 13.5 plus wheels and feet
(12.7 without wheels),
length 127, width 33.5
Weight 22 kg.



Parts like metal case, wooden side panels, electronics and software exclusively produced, manufactured and supplied by certified specialist manufacturers from Vienna, assembled by FLKeys.

FLK keyboards are completely designed and manufactured
in Vienna (Austria)


More at Prices / Order
LACHNIT MK22 Studio


Superior finished keys, according to specs of Vienna Concert Grand standard: Moulded, dressed to size and polished key edges, key surface smoothed, honed and polished.


Channel Aftertouch Key pressure sensitivity adjustable onboard with controller knob. Controller user configurable.
All other features are the same as MK 22.


MK22 Firmware Update Tool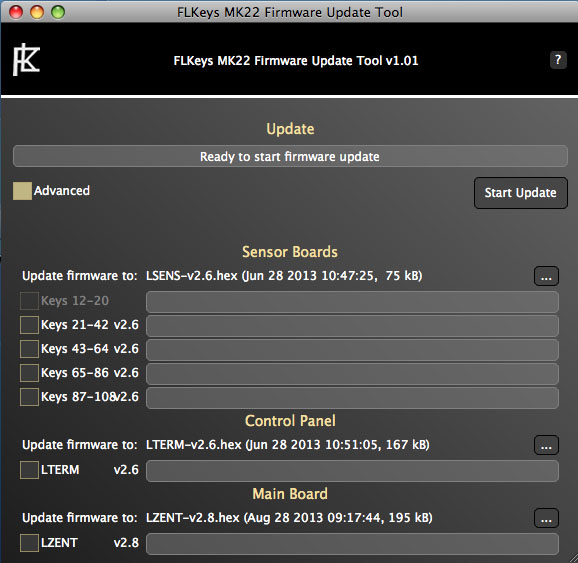 Not available for former models FLK, MK1, MK2.



LACHNIT MK22 Imperial 97:

Based on MK22 Studio but with 97 keys.
9 keys added in the bass section. A-2 to C-3


Dimensions:
Height 13.5 with wheels and stands (12.7 without wheels), length 139, width 33.5
Weight about 25 kg


More at Prices / Order