MK23 Studio
Keyboard
Operation
Download
Design
Resources
Setup Guide
Some Tech Specs
Tech Details
Especially in playing high-quality concert grand piano or electric piano sound samples the patented FLK hammer light sensor technology and the hand regulated keys provides you the experience of absolute authenticity.
You will be able to take the best, most virtuosic and expressive recordings and performances you've ever done. You will feel immediately at home.
For over 10 years we have listened to our customers and constantly evolved. Now we can say:
Switching back and forth between our keyboard and one of the "big three" is no problem. Similar to going from one grand piano to another.
Options:
Handmade Premium Regulation
Each key will be adjusted individual and set up in several steps for the optimal play feel.
FLK Lichtpedal LS MK23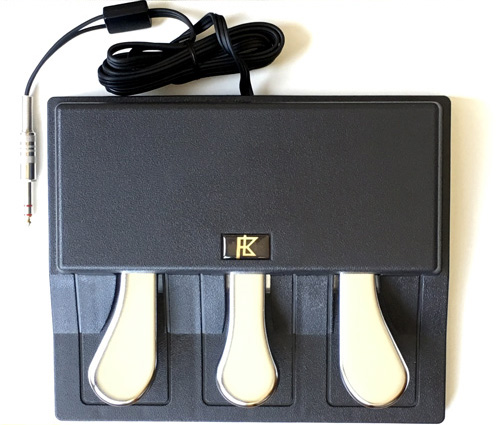 FLK Triple Light Pedal LS has 3 continuous touchless FLKeys developed light sensors (no potentiometer mechanism inside) All 3 pedals are continuous 0 - 127, smoother to press, better play feel, no mechanical wear and just one plug.
MIDI High Res Option
With MIDI Hi Res you play the highest possible dynamic resolution currently available.
More in
FAQ
Pianissimo Pedal Function:
PPedal expands the dynamic range of your play. By pressing the pedal you will be able to reach very soft notes (ppp) more easy.
Interface extension FLK Contr. iOS app
With this option you can also edit and save MK23 settings with the FLK Controll C11 app.
Midi merge
Received MIDI data merged together with the internally generated data. Send at the two MIDI DIN out sockets as well as via USB.
Please understand that we cannot provide all updates and options for free.
USB Firmware Loader for PC and Mac.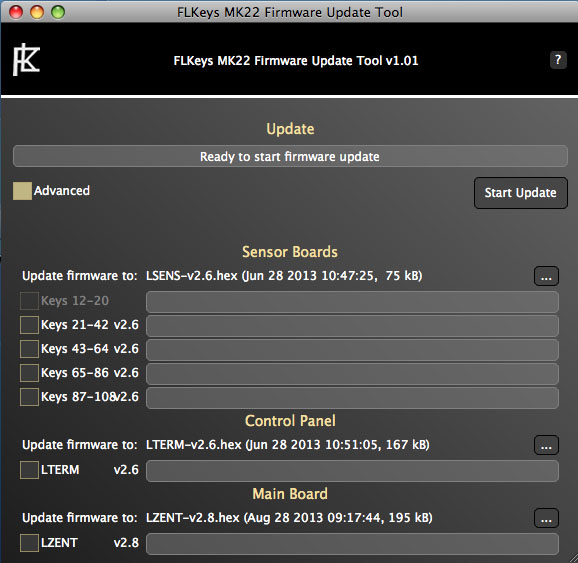 FLK Lichtpedal LS Mk23 and PPedal Option not possible with Mod MK22
Update and Midi Hi Res not possible with Modells FLK, MK1, MK2.
More at
Prices / Order
Some technical specs:
Hammer speed measured with patented FLK light sensor technology.
Adjustment of "weight of keys" key dynamics (from classic to pop) without loss of full High Resolution MIDI range, using one controller "on the fly" during playing.
Premium Regulation handmade
MIDI High Res CC#88
Pianissimo Pedal Function
FLK Lichtpedal LS MK23 compatible
2 buttons 4 knobs free CC configurable
Up to 4 continuous pedals.
Aftertouch channel pressure.
USB Firmware Loader for PC and Mac.
Escapement point (note on depth) regulated key by key.
"Double Escapement" possible
Dim. in cm:
Height 13.5 plus wheels and feet
length 127
width 33.5
Weight 22 kg.
Tech details:
Keys: (according to specs of Vienna Concert Grand standard):
Premium regulation handcrafted key by key:
Keys moulded, dressed to size and polished key edges.
Key surface smoothed, honed and polished.
Key forming for equably freely movement.
Escapement point (note on depth).
Repeated regulation passages.
Key stop felt
Channel Aftertouch Key pressure sensitivity adjustable onboard with controller knob. Detachable. Controller user configurable.
Patented FLK Light Sensor Technology
Dynamics knob and velocity curve edit knobs.
Over 32000 different levels of note on velocity are linearized to internal 256 MIDI values, followed by the user adjustable dynamics knob and velocity curve knobs.
For Hi Res linearized to minimum 4096 CC#88 values.
Unlike normal MIDI keyboard controllers implement velocity curves by shifting MIDI values and/or compressing the curve and consequently minimize the MIDI dynamic range. the full MIDI range of 0 - 127 is always available over the full range of the velocity curve knob.
Trigger point fine tuned to about 2/3 of key travel.
Each key is adjusted manually on each keyboard.
Pitch and modulation wheels
2 buttons 4 knobs free CC configurable
"Piano Mode" on/off possible to enable very slow key movements that don't produce a sound like on a grand piano.
"Waterfall Mode" on/off possible. Adjustable fixed MIDI velocity.
Dynamic key release velocity.
3 digit 7 segment display
Store your custom parameter settings permanently.
Up to 4 continuous pedals.
Continuous On/off possible for pedal switches.
Recognizes polarity of standard MIDI CC pedals automatically. 2-10K Ohms for MIDI CC controllers like expression pedals.
Inversion of pedal polarity without restart possible.
Pedal inputs work with continuous half damper pedals.
Stereo 1/4" jack for dual pedal and stereo 1/4" jack for CC-pedal.
Calibration of custom pedals on all 4 pedal inputs possible.
Connectors on backside.
USB Plug´n Play. No driver neccessary.
Metal case, wooden sidepanels.
Dim. in cm:
Height 13.5 plus wheels and feet (12.7 without wheels),
length 127
width 33.5
Weight 22 kg.
History: WIN XP shows the instrument as an audio device on the computer, installing the WIN XP driver shows it as a FLK MIDI device.