LACHNIT MK22 / MK22 Studio

New:
Premium regulation
MIDI High Res Option
With MIDI Hi Res you play the highest possible dynamic resolution currently available.
More in
FAQ
and
Prices / Order
Especially in playing high-quality concert grand piano or electric piano sound samples the patented FLK hammer light sensor technology and the hand regulated keys provides you the experience of absolute authenticity.
You will be able to take the best, most virtuosic and expressive recordings you've ever done. You will feel immediately at home.
Hammer speed measured with patented FLK light sensor technology.
Adjustment of "weight of keys" key dynamics (from classic to pop) without loss of full MIDI range, using one controller "on the fly" during playing.
3 digit 7 segment display for easier operation.
Up to 4 continuous pedals.
Aftertouch channel pressure (only on MK22 Studio).
Aftertouch sensitivity adjustable onboard "on the fly" with controller knob (only on MK22 Studio).
USB Firmware Loader for PC and Mac.
Midi Hi Res CC#88 compatible.
Escapement point (note on depth) regulated key by key.
"Double Escapement" possible
Premium regulation
More in
FAQ
And ... If you are looking for a really high-quality children's musical learning instrument ...
With a LACHNIT MK your talented children certainly do not "ruin" their fingers.
As a music student up to the "middle university level", you can at least work off your exercise workload at home (with headphones). Later, however, you will need to take training sessions on a high leveled professional acoustic piano. We still bow our head to the "big three".
Modell MK22
Version Studio
Keys: (according to specs of Vienna Concert Grand standard):
Handcrafted key by key:
Keys moulded, dressed to size and polished key edges.
Key surface smoothed, honed and polished.
Key forming for equably freely movement.
Escapement point (note on depth).
Repeated regulation passages.
Key stop felt
Channel Aftertouch Key pressure sensitivity adjustable onboard with controller knob. Detachable. Controller user configurable.
All other features are the same as MK 22.
----------------------------
MK22 Studio and MK22:
Patented FLK Light Sensor Technology
Dynamics knob and velocity curve edit knobs.
Over 32000 different levels of note on velocity are linearized to internal 256 MIDI values, followed by the user adjustable dynamics knob and velocity curve knobs.
For Hi Res linearized to minimum 4096 CC#88 values.
Unlike normal MIDI keyboard controllers implement velocity curves by shifting MIDI values and/or compressing the curve and consequently minimize the MIDI dynamic range. the full MIDI range of 0 - 127 is always available over the full range of the velocity curve knob.
Trigger point fine tuned to about 2/3 of key travel.
Each key is adjusted manually on each keyboard.
Pitch and modulation wheels
"Piano Mode" on/off possible to enable very slow key movements that don't produce a sound like on a grand piano.
"Waterfall Mode" on/off possible. Adjustable MIDI velocity.
Dynamic key release velocity.
3 digit 7 segment display
4 banks of 4 presets to store your custom parameter settings permanently (selectable by MIDI Program Change commands).
Up to 4 continuous pedals.
Continuous On/off possible for pedal switches.
MK2 recognizes polarity of standard MIDI CC pedals automatically. 2-10K Ohms for MIDI CC controllers like expression pedals.
Inversion of pedal polarity without restart possible.
Damper pedal input works with continuous half damper pedals.
Stereo 1/4" jack for dual pedal and stereo 1/4" jack for CC-pedal.
Calibration of custom pedals on all 4 pedal inputs possible.
MIDI trio, USB connectors.

USB Plug´n Play. No driver neccessary.
(WIN XP shows the instrument as an audio device on the computer, installing the WIN XP driver shows it as a FLK MIDI device.)

Metal case, wooden sidepanels.

Dim. in cm:
Height 13.5 plus wheels and feet (12.7 without wheels),
length 127
width 33.5
Weight 22 kg.

USB Firmware Loader for PC and Mac.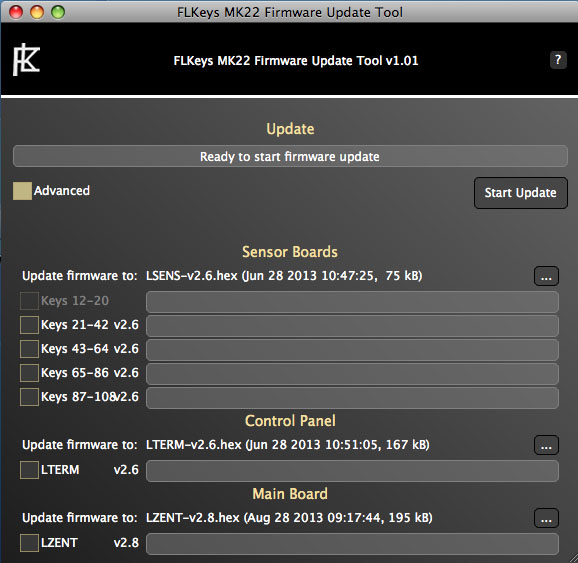 Loader V 1.12
Multiple strikes on one note (without "damper") possible.
Loader V 1.09
prepaired for MIDI Hi Res option
Loader V 1.06
USB on I Pad
Preparation for FLK triple pedal
Extended compatibility with common volume/expression pedals, switchable Ring <> Tip, pot calibration etc.
Loader V1.02
Improved compatibility with external software.
Improved linearization of continuous controller inputs (pedals).
________________
In development
Pianissimo extended
Dynamic knobs switchable as controller knobs
Planned features:
Adjustable dynamic leveling black keys - white keys with retained full MIDI resolution. Storable.
Split point(s)
________________
Update and Midi Hi Res not possible with Modells FLK, MK1, MK2.
FLK keyboards are completely designed and manufactured in Vienna (Austria)
More at Prices / Order